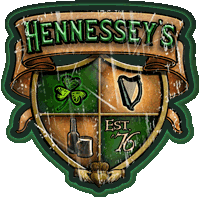 Here we go again! Time for more fun, can you stand it???? No need to wait for St. Patrick's Day to get out there and celebrate with friends. We've got a couple of events planned to get the party started well before then:
Join us on Thursday, March 11th, at Carlsbad Hennessey's for another great party. They had so much fun celebrating our anniversary last month, they want us to come out and celebrate their 21st with a cigar dinner. You'll get a fine cigar, pint of Harp or Guinness and flat iron steak dinner all for just 21.95. Add to that great people and conversation and this is sure to be an event you won't want to miss.
Then on Monday, March 15th, Gregg and I will be at Iron Mike's Staff NCO club on Camp Pendleton for a burn your own steak night, or stir fry your own Mongolian beef dinner. It's always a fun event and Gregg brings a variety of cigars for you to choose from. You decide what you want to eat and drink and get to chat with some really amazing people. You do not have to be military to participate in this event; the public is welcome and encouraged to attend!
Cigar Dinner Anniversary, Camp Pendleton, Carlsbad, Cigar Dinner, Cigars, event, Fun Event, Hennessey, Hennessey's, Iron Mike, March Madness, Pint, social, St Patrick, Staff Nco Club, Steak Dinner, Steak Night