Willy Herrera loved his trip and the Grotto family so much, he wants to come and party with us again.
Event in store at Cigar Grotto Inc,
MARCH 26, 2014
3:00-6:00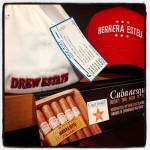 Dinner and DEALS at Carlsbad Hennessey's to follow
6:30 –
Join Gregg, Alex, myself, and Willy Herrera, for cigar, box deals. raffle where you have an opportunity to win hats, t-shirts, ashtrays, cutters. Insanity for the cigar smoker.