Beginnings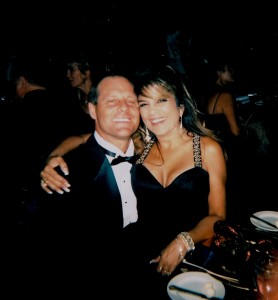 Where it all began……….
Gregg and I have been happily married for a really, really, really long time. We moved here in August of 1991 when we decided we wanted a more diverse area for our daughters, Skye and MeeMee, to grow and learn.
Gregg worked for Vons grocery store when we met in high school and after that dabbled in different lines of work before his grandfather Ed, and my father Zim, got a hold of him and said, "you're good at what you do, but definitely run on your own time schedule. People like you need to be your own boss." I thought this was a great idea because the man is late everywhere he goes; at least this way he couldn't be fired.
He had a good friend named Steve, a wonderful Polish man we called Steve-O and he owned a cigar store in Huntington Beach, something Gregg and I had never really gotten into, at that point. A year after hanging out and learning a bit about it, Gregg came home and said he wanted to open a cigar store.
My response was,  "You wanna what?"
When I saw the look in his eyes I just knew we were going to open a cigar store, so we started looking for a location. He repeatedly went back to the location where the store is now, but wouldn't commit. He had two young daughters, a wife, a house and all the stuff that comes long with it to worry about. While driving one day, we passed the location and I saw the look in his eye again, so the Boss had to make it happen. I called the realtor, Larry O'harra, and said, "Let's meet."
Gregg wasn't aware of the meeting. Larry and I walked it, talked about it and I liked it, as I realized something kept drawing Gregg to this location. I went home and told my husband that I had set up a meeting with Larry the next day. He thought he was going to view the location inside. But nope; mama made it happen. The day before, I had cut a check and signed the lease.  When Gregg walked in, he was handed the keys to what he named, CIGAR GROTTO, his very own Cigar Man Cave.  By this time both Grandpa Ed and my father Zim had passed, but I know they are proud and smile at him regularly.
We worked with Brian Hasholdt, the most amazing contractor, to create the largest walk in humidor in North County (others say theirs is the biggest, but we can prove it!) Brian worked day and night to construct a beautiful humidor that stores and maintains your perfect cigars.  Once construction was complete, my mother and our daughters came  to help stock it. It was so exciting to see what was taking place.  We found crates for displays, the fabulous butane display, (remember that?) ashtrays and whatever else we could find to fill the store. Then we opened.
Gregg had made a commitment to work the first three years, only taking off Christmas. I cannot tell you how many would stop in just to ask "what were you thinking?" or tell us, "It will never work." Hey, thanks, Eeyore.
One day, Tom Morrow walked in and told Gregg, "WOW, I like! Oceanside needs this, and I'm going to help you." I opened up the North County Times the next morning and saw that wonderful man's face and knew this was the beginning.  Now if you know Tom, that means a lot. The man is an Oceanside fixture, and was telling us this was good. With Tom's help, we started having Cigar Dinners at McCabe's and The Flying Bridge. We'd get 40 people and have a fine meal prepared by Danny Cannon, enjoy spirits and cigars and great camaraderie. We have moved from those places to Hennessey's in both Carlsbad and Vista, Finnegan's, Fallbrook Golf Resort, El Camino Country Club, Luigi's, and so many more. We were thrilled when we had Councilman Jack Feller, Rocky Chavez, and Mayor Dick Lyons, stop by and tell us how much they appreciated us going big with the windows and decor in hopes other stores would follow suite. Some did and obviously to this day some still just don't see Oceanside for the gem it is.
Then, there are our fabulous Vendors:  I remember one of the first reps that walked in the store, paused looked around and I am sure thought, "What they heck???" Then Gregg would talk with them and they got it, that this guy's going to rock this place. By word of mouth, more and more reps came to us, we didn't have to go to them. Except one… all of the other people in the industry told us "You'll never get a Padron account, you're too new, you're too small. It will never happen" while telling us it took some of them 6 years… blah, blah, blah. I guess they never met me!
We went to our very first RTDA convention in Vegas and I saw the Padron booth and said to Gregg, "let's just go ask, the worst they can do is say no." I could see the hesitance in his face and asked him to grab me a beer. While husband was getting the wife a beer, wife walked up to Orlando Padron, introduced herself, told him the entire story and we started our account with the Padron family that day. Can you even imagine how much fun I had telling that story to the nay sayers? An absolute blast!!!
We have been to Honduras three times with customers, once taking our daughter Skye to mix tobacco and me to roll. We have gone with customers to Cancun as well and are now planning to go to the Dominican Republic, and back to Cancun with Camacho. With our customers/family, we have traveled to other countries to witness weddings, graduations, hosted re-enlistments in the humidor, Military Graduations and Military Balls.  It just doesn't get any better than this!
My favorite memory to date is the parents of a young Marine who came in our store after his graduation on Camp Pendleton and thanked Gregg for taking their son under his wing, treating him with dignity and respect, having him over for Thanksgiving. But most of all, just letting him know there's someone here for you if you need 'em. From one parent to another, wow!
We have been in business for 10 years as of today, and we couldn't be happier or more proud of, not only of our immediate family, but our community, and our store, as well as the friendships and family we have developed with you.
So a HUGE thank you to Ed Cook, Gregg's Grandfather and my daddy Zamir Jumani. If they had not believed in him, you'd be buying your cigars somewhere else, and that would be tragic!
With much Respect,
DeeDee
Gregg's Wife
New Update, on November 12, 2009 our youngest daughter MeeMee blessed us with our first grandchild. A beautiful little boy named Giovanni. He was born healthy and has made us the most happy grandparents you could ever imagine. Gregg is the doting grampa that can't get enough time with hi lil "G", he already has him on the putting green. And well me I am just smitten on the lil man that brings me so much joy. Auntie Skye and Uncle Joey are just gaga over him and needless to say he is spoiled by all. I am sure you can imagine he has many aunts and uncles with the size of our Grotto family. If you haven't met him yet your in for a real treat, he brings smiles to all.