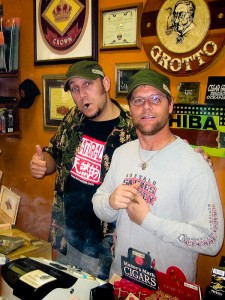 What's up guys? This is Fabien and I would like to personally invite you to the crazy block party and dinner that Cigar Grotto and Drew Estate are putting together. It is going to be on Friday, February 26th with the in-store event starting at 3pm and will continue with dinner at Hennessey's in Carlsbad at 6:30. The specials we will have during the in-store event are just insane and the cigars that will be smoked at the dinner will be out of this world!
Every guest at the dinner will be getting a Liga Privada #9 Parejo. This cigar has taken over all the online chat boards and is very hard to find, being that it is only being distributed to 150 accounts all over the states. It is medium to full, flawlessly constructed, rich and full of character! But don't take my word for it, come on down and reserve your seat at the dinner and experience it for yourself.
The other cigar will be none other than the one and only "jewel" of Nicaragua, the Joya de Nicaragua Antano! This is a FULL body Nicaraguan puros! The first time I smoked one of these cigars, I fell in a pool but that is a story for another day. This cigar is very smooth, but crazy full and the sun-grown Criollo wrapper gives you just the right touch of pepper.
Finally, I don't want to let the cat out of the bag…. but if you come out and you are nice to me, I might have a VERY, very special third cigar for you… but only if you're nice! This third cigar will most likely be released later on this year, but if you come to the dinner and you are nice to me, I might let you have one!
See you all there, and if you have a green Drew Estate hat, put it on and come on down. This is one event not to be missed! Peace out, O-town!!!!!
~Fabien
Cigar Dinner, Site News Block Party, Carlsbad, Cigar, Cigar Dinner, Cigars, Drew Estate, event, Grotto, Guest Blogger, Hennessey, Hennessey's, Joya De Nicaragua, Oceanside, social