Happy Holidays
From Cigar Grotto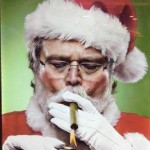 Store Holiday Hours
December 19 – 23
10:00am – 8:00pm
December 24,
10:00am – 5:00pm
Gift certificates available.
Reminder: Holiday Cigar Social and TOY DRIVE this Thursday the 18th at Carlsbad Hennessey's. If you can't make the social feel free to drop your toy off with Gregg at The Grotto.
This time of year this is a great gift for someone special Dad/Mom, brother hubby or boss) , or a great way to get friends together and enjoy a fabulous evening of camaraderie over the holiday season.
Holiday Cigar Cigar Social
Thursday December 18th, 2014
Starting @ 6:30pm
Carlsbad Hennessey's
$24.95
A fine Cigar from " The Cigar Grotto"
A Pint of Latitude 33 Craft Beer.
Appetizer spread
Flat Iron steak, Bacon & Bleu Mashers and Mixed spring greens.
Conversation with other Cigar Aficionado's
Cigar Grotto Gives Back will collecting unwrapped toys for the kids who might not have a Christmas without you. A raffle ticket will be given to everyone who brings a toy.
Get your festive outfits ready and lets celebrate the reason for the season.
6:30-9:00 is for those enjoying the dinner package, If you would like to join us for cocktails and cigars pleas feel fr after 9:00.