Pre-Saint Patty's Day Cigar Social
Wednesday, March 13th, 2019
6:00pm – 10:00
Carlsbad Hennessey's
$29.95 pp
Must purchase the dinner package to attend, no splitting plates, no menu changes.
Seating is limited.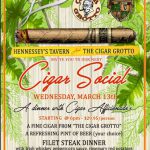 A fine Cigar from Cigar Grotto
A complimentary pint of Draft Beer
Filet w/Irish Whiskey Pepper Corn Sauce,
Rosemary Red Potatoes & Creamed Spinach.
*Conversation with other cigar aficionado's*
If you would like to join us for cocktails and cigars, 9:00 – 10:00
Email with any questions
Like us on Facebook, Twitter, Instagram