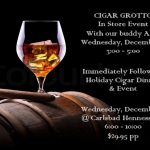 Our little buddy Alex is coming to The Grotto to host a fun store event and then continue the fun at our
Annual Holiday Dinner.
Wednesday December 5th 2018
IN STORE
3:00 – 5:00
Box deals, promotions, and so much more.
Holiday Cigar Dinner
Hennessy's's Tavern Carlsbad
Wednesday December 5th 2018
6:00 – 10:00
$29.95 pp
A fine Cigar from Gregg & "Cigar Grotto"
Pint of beer your choice
Peppercorn Steak , Garlic Mashers & Roasted Brussels Sprout
"Conversation with other cigar aficionado's"
No menu changes.
See you there!!!