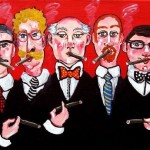 "New Little Buddy" May Cigar Social!
Bring a new cigar smoking friend to the party and receive a raffle ticket.
Thursday May 28th
Starting @ 6:30 pm
Carlsbad Hennessey's Carlsbad​
$29.95
A fine Cigar from "The CIGAR GROTTO INC​"
Pint of Beer
Appetizer Spread
Flat Iron Steak w/ garlic butter,
Southwest slaw and Pan fried potato
"Conversation with other cigar aficionado's"
Live entertainment to follow so plan on sticking around
6:00pm-9:00 is for the dinner package. Please feel fee to join us for cigars and cocktails after.