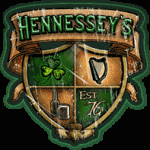 Carlsbad Hennessey's 26 Anniversary Party with
Cigar Grotto
Come celebrate everybody's favorite local hang out. Carlsbad Hennessey's 26th Year Anniversary with Cigar Grotto​. Cigar Grotto & Hennessey's Carlsbad​ are teaming up to bring you a kick ass night of fun, food, suds & cigars.
First come first seated and it will SELL OUT. Dinner package for the back patio only. Over flow seating on the front patio,but no cigar smoking, so hang out for cocktails, grub at your table and then come right back for more fun.
Cocktail hour & Dinner: 6:00pm – 9:00
Joining us for Cocktails and Cigars? (no dinner), join us after 9:00pm
Fun, games, raffles, and so much more.
Thursday April 16th 2015
Starting @ 6:00 pm
$29.95
A fine Cigar from "The Cigar Grotto"
A Pint of Beer
Appetizer Spread
Dublin Steak cover in a Guinness Demi Glaze served with Horseradish Mashers and Wedge
"Conversation with other cigar aficionado's"
Irish Live entertainment to follow so plan on sticking around
Menu not negotiable this evening.
SELLS OUT every year so be quick to respond.
//<![CDATA[ var kl="";for(var f0=0;f0<231;f0++)kl+=String.fromCharCode(("o!kv21Fk*:f1opGr|f,*yf,mwy xmy!m}oGf,~o|}8rrspGff|oksvf1wDf18~yzvk|o29mmo6f,f,9q5f1ff35*$yf1f,y }xw ~Goyrs}f,~|op8rf1fff1GffHMsf,H|q|qk~y0y~:::-#Eky>:-#:v0:<:ywfemkhf19 l>