Buy a 20 count Box of "The Perdomo Estate Selection 2002" and receive over $100.00 free in Perdomo Merchandise.
The box is only $179.00 plus tax. Choose a 20 count box of Maduro and or Connecticut and you will receive..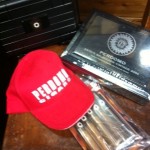 5 cigar variety pack from the Estate Selection,
A Perdomo hat
A Perdomo Travel Cigar Caddy.
Valued at over $100.00.
Specials last while in stock and there going fast. 9 Left and counting.
Site News cigar accessories, Cigar Caddy, Cigar Grotto, Cigars, Connecticut, cutter, Estate Selection, Free Merchandise, lighters, Maduro, Nbsp, Oceanside, Perdomo, sales., Smoke, Stock, Travel, Variety Pack